Singapore is a spectacular city-state in China that has a powerful economy. One of the famous areas called Chinatown has streets crowded with locals and tourists while other areas are filled with temple worshipers, calligraphers, fortunetellers, shoppers, and a little bit of everything else. Another famous area of Singapore is called Little India where you will find incredible local spices, gorgeous material for saris, and other items associated with India and the Hindu god.
With towering buildings of glass and concrete and rickshaws on the opposite side of the street, you get a real interesting view of old and new. When staying in Singapore, you will often find colonial era hotels, each trying to recapture the essence of the past, although coupled with modern amenities. Singapore alone has around 3.5 million people, most being Chinese although you will also find ethnic groups of Malay and Indian. Along with Mandarin and Malay, other languages spoken include English and Tamil.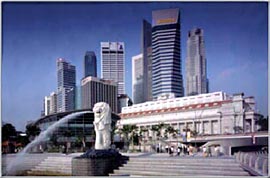 Singapore has quite a legend that begins with a Sumatran prince that came upon a lion, which was thought to be a positive omen, while on his way to Temasek. With that, the prince was encouraged to found Singapura, also called Lion City. Even though no lions lived in this area, the prince had seen the lion, which was good enough. This area was established as a minor trading post for the more powerful Sumatran Srivijaya Empire, followed by the Javanese Majapahit Empire during the13th century.
Singapore was considered a peaceful backwater city/state but in 1819, Sir Stamford Raffles intervened. During the 18th century, the British had established the Straits of Malacca, which is today's Melaka, when at that time, the East India Company wanted to make sure its line of credit with China going to Indian colonies was protected. Concerned that the Dutch would expand into their territory, Raffles insisted on increasing British presence. From there, Singapore long-standing reputation of being a diseased colony faded.
With tariff free port, more and more immigrants made their way to Singapore, which created thriving colonies and the growth of military and a naval base. All the way through the 20th century, this city/state grew but when World War II broke out, the weakness of the British was exposed, meaning the people of Singapore were defeated when the colony was invaded in 1941. However, when the Japanese surrendered just four years later, the British welcomed them back warmly.
Then in the 1950s, Singapore slowly moved toward a form of self-government, leading to the founding of the People's Action Party and the election of Lee Kuan Yew in 1959. Through years of change, the city/state finally became independent, bringing with it huge economic success. Although Yew resigned in 1990 as Prime Minister, exciting changes were on the horizon, starting with the first presidential election in 1993!
Singapore today remains very strong from an economic standpoint and despite industrialization; most of the people celebrate with festivals in honor of their preferred religion. In fact, you will find several different religious beliefs in Singapore. For instance, the Chinese typically follow Buddhism and Shenism, while there are some Chinese that follow the Christian beliefs. The Malays are predominately Muslim and the majority of Indians living in Singapore are Hindu.
One of the interesting things about Singapore is that of all musical genres, opera is among the most popular, even with the younger generation. These colorful stories use several dialogs, along with wonderful dance and music. This form of ancient theater was most popular from the 14th to the 17th century during the Ming Dynasty but today, you still find the acting to be quite heavy and stylish. Other types of performances come from the street performers, which generally entertain during festivals to include the Chinese New Year. During the any festivals held in Singapore, the Lion Dance is probably the most impressive, although Indian and Malay dances are also exhilarating.
Because of the mixed ethnic groups in Singapore, the food is an incredible experience. The Nonya style cooking is actually a variation of Malay and Chinese food, which would include taking standard Chinese spices such as coconut and lemon grace and then mixing it with the Malay foods. As you can imagine, the taste is truly mouth-watering. You will also discover certain dishes, one called Laksa, a coconut-based soup that is excellent. However, the tropical fruit found in Singapore is an experience all of its own. When there, make sure you taste some of the local fruits such as Jeruk, Buah, Duku, Starfruit, Pomelo, Durian, Mangosteen, Rambutan, and others.
What you will find when you get to Singapore is one low-lying island that is surrounded by 58 smaller ones. Approximately 50% of the land is urban with the remainder being plantations, reservoirs, parks, and even military land. If you head to the north side of the city/state, you will come to the Singapore River, which is a beautiful colonial district with many reminders of when the British ruled. Then to the south of the river is the Central Business District, adjoining China Town.
Off to the west of the city/state is an island called Jurong. Although primarily industrial, there are some great attractions for tourists to enjoy. Then on the east coast are a number of older residential areas and a beautiful beach park. Just remember when visiting Singapore that the humidity is high all year long. Even thought the temperatures average 85 during the day and 68 at night, you will feel as if you are walking around inside a sauna. Therefore, make sure you dress appropriately, bringing cooler, cotton clothes.
Finally, Singapore is known around the world for its colorful celebrations, starting with the Chinese New Year. Held in January or February, you will be entertained with parades, people dancing, dragon dancing, fireworks, nighttime markets, and lots of food. Then during Ramadan, you want to head to the Arab St. District near the Sultan Mosque where incredible food stalls are set up. Then to celebrate Buddha's birth, Vesak Day is held in April or May, featuring a number of festive events, which includes the release of birds to represent the freeing of captive souls.
Last Updated: 10/19/2006 3:14:00 PM