United Arab Emirates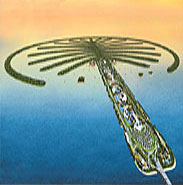 The United Arab Emirates, also referred to as UAE, is actually seven supreme sheikhdoms, all formed as the British withdrew from the Gulf in the late 20th century. Although this particular part of the world was unknown, today, travel companies are now encouraging travelers to venture to the UAE, a magnificent land of contrast. As you look around, you will find literally every type of environment possible to include beautiful beaches, rugged mountains, isolated deserts, and various lifestyles from camel racing to duty-free shopping to Bedouin markets. Although the area is small, it certainly packs a big punch. When traveling to the Gulf,
...
continue >>
Al Hajjar Mountains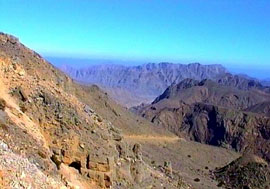 The Al Hajjar Mountains of the United Arab Emirates are often referred to as the
Journey to the Center of the Earth
. Located in the Musandam Peninsula, these mountains represent the largest surface exposure of rocks of the upper mantle and oceanic crust. Together, these surfaces are called Ophiolites, making them a geologist haven. In fact, just 15 years ago, a major geological symposium was held in Oman whereby more than 300 geologists from around the globe gathered for the 12-day trip and lecture session to learn more about these
...
continue >>
Dubai and Abu Dhabi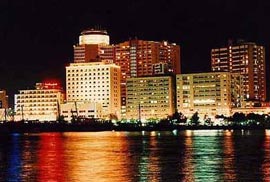 Although there are many places to visit while in the United Arab Emirates, Dubai and Abu Dhabi are two to consider. First, Dubai is a city of wealth that depends largely on trade. Since many other cities in this part of the world depend on oil, Dubai is quite unique. Although the city itself is not one most people would consider spending any length of time in, it does offer some incredible nightlight and duty-free shopping. Because of this alone, you should plan spending two or three days in Dubai where you can wander among the various Souks, which are
...
continue >>
UAE - Visiting Backwater Cities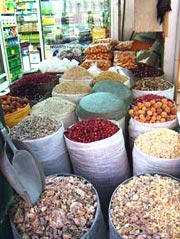 While in United Arab Emirates, the two main cities most people visit include Abu Dhabi and Dubai. However, you will also discover a number of
backwater
cities each unique and interesting. For starters, there is the city of Al-Ain, which is in the Buraimi Oasis. This particular city sits in between Oman and Abu Dhabi and on the Omani side is its sister city of Buraimi. The nice thing about visiting Al-Ain is that you can move freely between this city and Buraimi to experience the culture and flavors of Oman without having to have a special Visa.
...
continue >>