One of the most fascinating aspects of Singapore, China, as well as a number of the larger cities and states within this country is that the people love opera and ballet. In fact, the people of Singapore love fine and performing arts of all types.
Because of this, as you travel through the city/state, you will find a number of excellent theaters that features some of the most incredible shows you have ever seen. The level of talent, the elaborate costumes, the music, and the overall production is unmatched by any other.
One such performance is held at the Singapore Dance Theatre called
Ballet under the Stars
.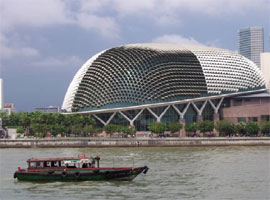 For the people of Singapore and all the tourists, this show is spectacular and by far, a favorite. What you will see is many of the locals showing their amazing talent to include Ricky Sim and Jeffrey Tan as an example. During the weekend for the Ballet under the Stars, you can spend the day in the park and relax in the tranquil setting. However, if you prefer, you can dine out at any number of excellent restaurants nearby and then make your way to the performance.
The theater is located in the Fort Canning Center and the doors open at 7:30 p.m. Keep in mind that if you want to bring your picnic food this even begins at 5:00 p.m. Every year, the talent changes, featuring new performers and choreographers. For instance, the Singapore Young Choreographers Dance Platform will be promoting young performers such as Khek Ah Hoc and Joanne Lee.
The price to enjoy the Ballet under the Stars is just $15 per adult and for children under the age of six free. In addition, if you are traveling with a group of five or more, then you will enjoy a nice 20% discount. Another excellent theater is called Esplanade – Theatres on the Bay. With incredible performances and varying venues, this waterfront complex holds 2,000 people. One of the interesting things about this theater is that it also features food outlets, a mall, a fine arts library, dance, film, and music.
Last Updated: 10/19/2006 3:14:00 PM