As you will discover, Singapore, China is a fascinating city/state with so many incredible things to see and do. We wanted to provide you with some of the more exciting options in relation to areas of Singapore. For instance, let us start with Chinatown, literally the cultural heart that provides visitors a look into the past as well as into the future.
In Chinatown, numerous temples are located, each magnificent. In addition, this area features a number of charming shops, merchants, and restaurants. Having been renovated for years, Chinatown is one of those areas that you do not want to miss. The experience is well worth the visit, especially the Thian Hock Keng Temple, probably the most incredible of all the temples in Singapore.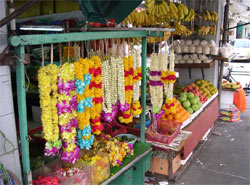 Another great area is Colonial Singapore, which has the mark of Sir Stamford Raffles on it. Raffles created the blueprint so to speak for central Singapore. There, you can stay at the Raffles Hotel, simply put, pure Asian luxury at its best. Then two incredible churches well worth visiting are the Cathedral of the Good Shepherd and St. Andrew's Cathedral. Finally, the Empress Palace Building was constructed in 1865 and today, this Victorian building is a place of antique galleries, art galleries, a museum, and even a wonderful restaurant.
Arab St. is a textile district where you can buy all types of goodies from Indonesia. For example, sarongs, shirts, and silk fabrics are among he favorite but you can also purchase things like baskets, rattan items, flower essences, and more. Of course, the biggest and busiest mosque in all of Singapore is the Sultan Mosque. Although the Malabar Muslim Jama-ath Mosque is much smaller, it too is magnificent and worth seeing.
Then, you have Little India, which is a wonderful area that has more shops that you would know what to do with, as shown in the photograph. As you walk around, you will enjoy the aroma of spices and food. Much of the food is vegetarian, cooked by street cooks. The main market is called the Zhujiao Centre and if you enjoy visiting temples, there are several options to include the Temple of 1,000 Lights, a very vibrant temple, or Sri Srinivasa Perumal or Veerama Kali Ammam, all great choices.
Finally, Orchard Rd is where you will discover some very affluent hotels. This area is where the rich and famous stay and where those with money can enjoy incredible shopping centers, glitzy restaurants, bars, lounges, and excellent nightclubs. Although Orchard Rd also offers quite a bit of cultural interest, the shopping is what this area is best known for along with the food. Just remember, these areas are just of the many options you have while in Singapore. Each is distinct and carries a special piece of Singapore's culture and history.
Last Updated: 10/19/2006 3:14:00 PM