The Singapore Science Centre is a great place to visit while in Singapore. With more than 850 exhibits spread out through a number of galleries, you could spend days within the centre and never see all there is to see.
For this reason, the experts working the centre highly recommend visitors try to focus on just one or two exhibits. With that, you will have plenty to see and enjoy without wearing yourself trying to get it all in. Because of the vastness of the centre and all there is to do and see, the return rate of visitors is as high as 70%.
The great thing about the Singapore Science Centre is that some of the exhibits are interactive and some non-interactive.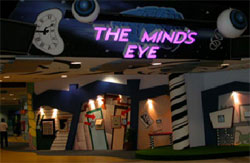 With this, the entire family will have plenty to do. In this article, we wanted to provide you with some examples of the various exhibits available. First, there is the Amazing Electron, which is an exciting and educational exhibition that will take you on a voyage to learn about discoveries and inventions often overlooked or taken advantage of in everyday life.
Another fun exhibit is the Space Center. With this exhibit, you will have a great time engaging in an interesting trip to the solar system, learning about the stars, sun, and various celestial objects in the vast universe. Then, you have the opportunity to visit the Kinetic Garden, which demonstrates scientific phenomena and principles that would be extremely difficult if not impossible to create indoors. To make this Kinetic Garden, the Science Centre invested more than $2.5 million dollars.
Finally, if you love optical illusions, trying to figure out how the impossible works, then The Eye's Mind is the perfect exhibition to visit. To give you an idea of what you will experience in this exhibit, there is the
Life in a Fish Bowl
, allowing you to see the world as a fish does or Tri-Zonal Space Warper, a giant spinning dick that creates pulsating effects on the eye to intrigue and mesmerize. Other fun highlights of this exhibit include the Unpredictable Transformed Faces, pictures of people that can be viewed right-side up or upside down, or the Head on a Platter, a way of making your body disappear while your head remains on the table.
The Singapore Science Centre is full of things for kids of all ages to do and see. If you are traveling to this city/state with small children, you will be introducing them to an entirely new world of exploration. However, even if you are traveling only as adults, the science center is exciting and fun. In fact, you too will have the chance to learn and experience new things that give you a better view of the world.
Last Updated: 10/19/2006 3:14:00 PM