When it comes to excitement and cultural diversity, Mexico ranks close to the top. In Mexico, you see both old and new. For instance, in one city, you could party into the wee hours, eat true Mexican food, or dance to a number of rhythmic music genres or find yourself faced with ancient ruins, pyramids, temples, and a number of fascinating sites that provide you with a look into the past in another city.
Mexico is also a country of rich and poor. Take Mexico City for example, there, you can travel from one community to another, looking at million dollar mansions where just a few miles away, people live in small shanty towns. This unique blend of old and new, rich and poor, is just one of the many things that make Mexico such an intriguing place to visit.
Considered a tourist paradise, the land of Mexico is comprised of snow-capped volcanoes, numerous ancient ruins, vast deserts, pristine beaches, industrialized cities, colonial towns, luxurious resorts, and truly, amazing flora and fauna. What makes all of this so unique is that you could be in Mexico City and then just an hour's flight away, in the dense rainforest. The people of Mexico are just as diverse as the landscape, making this a memorable place to visit.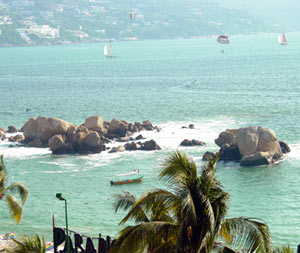 Although you will still find modern architecture and booming businesses, approximately 60 distinct indigenous people survive primarily because of the isolated existence. With such a unique blend, people sometimes feel as if Mexico is a surreal place. However, with a few cold margaritas, colorful fiestas, the afternoon siesta, and fantastic food, they will quickly realize this place is very real and very exciting. Just imagine shopping on Saturday and visiting Mayan ruins on Sunday! Mexico is a country of wonderful opportunities for exploration and adventure.
Historians believe Mexico was first inhabited some 20,000 years prior to the arrival of Christopher Columbus. The civilizations were actually very developed and skilled, flourishing from 1200 BC to 1521 AD. The Olmecs were among the first ancestral civilization, appearing in 1200 and lasting until 600 BC, living in the lowlands of Tabasco and Veracruz. Then by 300, the Zapotecs joined them, which resulted in the building of Izapa. Then in 250 AD, the Mayan civilization began to build temple pyramids in the Yucatan Peninsula. Flourishing, the Mayans were eventually joined by the Toltecs and Aztecs.
After Mexico had been civilized for about 3,000 years, everything was shattered when Hernan Cortes landed in 1519. From what history tells us, the Aztec Indians were actually very hospitable at first. However, when the Spaniards moved into the towns, the Aztecs resented their control. Gathering 6,000 locals, the Aztecs went to Tenochtitlan, the capital city, to meet with King Montezuma II, who actually invited them into the palace where they were immediately taken hostage. They continued resisting the Spaniards until 1521 when new diseases and harsh conditions by which they were treated devastated the population. Sadly, the population quickly fell from 25 million at that time to just one million in 1605.
During the time from the 16th to 19th centuries, the Spanish-born colonists, although considered noble in Spain were nothing but humble people in Mexico or New Spain. These people, called Criollo, began to acquire commerce, ranching, agriculture, and mining to build their wealth. Even so, another group of people known as the Mestizos, a mix of Spanish or from African descent, was considered below the Criollos. Then below them, was one last group consisting of African slaves and indigenous people.
By 1808, great rebellion arose with the move of Napoleon Bonaparte to occupy a large portion of Spain. With that, New Spain stopped rivaling with Spain and in 1810, a Criollo parish priest named Miguel Hidalgo y Costilla, called for rebellion, leading to Mexico's day of independence. Although 22 years of instability followed this great day, and a number of wars broke out, today, we see a thriving country.
One of the first things you typically notice when going into Mexico is the incredible talent of the people. Having long worked with color and art, you will commonly see murals painted on walls and buildings, along with beautiful art galleries. In fact, this same creativity is expressed through the famous folk art tradition seen throughout the country. In addition to art, the Mexican people have an amazing skill with architecture. The adobe style is so popular that you see people building this style of home around the world.
Some of the places where you can view the ancient architecture include Uxmal, Chichen Itza, Monte Alban, and Teotihuacán. There, you will be mesmerized by the magnificent pyramids, temples, ceremonial centers, and even ball courts. Churches and plazas are also an important part of the culture seen throughout Mexico, which varies in style to include Baroque, Gothic, Neoclassical, Plateresque, and Churrigueresque.
Today, approximately 50 indigenous languages are spoken by seven million people. When it comes to food, nothing is better! The staples throughout the country include three things – beans, tortillas, and chili peppers! The tortillas, also called gorditas, are made from wheat or corn flour, which are then pressed and cooked on griddles. The beans, otherwise known as frijoles, are typically refried, boiled, or fried and used in tortillas or in soups. In fact, the Mexican people will put beans on just about anything! Other local favorites include Mezcal and tequila, and Pulque, a gentler drink made from maguey sap.
Whether visiting Mexico City where you can watch bull fighting and dine in fabulous restaurants, Acapulco, parasailing off the beach or watching the cliff divers, or Puerto Vallarta, snorkeling or shopping, you will fall in love with Mexico. After all, there is so much to see and do that you could spend months in the country and never be bored. Remember, you have options of visiting ancient sites or taking in the newer places so there is something for everyone to enjoy.
Last Updated: 10/19/2006 3:14:00 PM