When in Mexico, you definitely want to take time to explore and uncover some of the most amazing history as you visit the Yucatan Peninsula. There, you will be met with incredible and mysterious structures to include pyramids and temples!
The Mayan civilization was mathematical wizards, highly skilled workers who were way ahead of their time. In addition, these people were highly skilled in planning and executing the building of incredible structures, constructing massive cities with only rugged tools.
Today, you have the unique opportunity to see many of these spectacular architectural structures, some that include Chichen Itza, Copan, Palenque, Tikal, Tulum, and Uxmal. The pyramids, temples, observatories, and palaces were made completely without metal and built by skilled farmers who had to clear mass areas of the rainforest. During this time, groundwater was extremely hard to find so the workers dug out underground reservoirs that were used for storing water.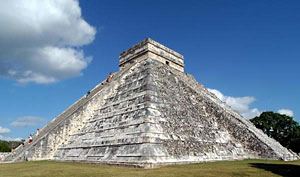 One of the most incredible pyramids is Teotihuacán (Tao Tee Wa Con). You will be impressed with the pyramid that reaches upwards to 20 stories. Interestingly, the Mexican people believe this pyramid inspires the soul while creating imagination. The buildings of this pyramid are all perfectly aligned with both stars and solar system that complement the mountain range. Built by the Toltec Indians, the Teotihuacán, often referred to as Teo, was at one time the same size as Rom, with the center being active with culture and learning for more than 1,000 years.
Other Mexican pyramids include Palenque, Uxma, Tlahuizcalpantecuhtl, Tula, and Quetzalcoatl. In Tzintzuntzan, Mexico, you can visit a wonderful place called Hummingbirds in Stone, which is found 7,000 feet above sea level. At that location, you will find the longest pyramid in the west, measuring an astounding 3,100 feet. Some 600 years ago, this area was abundant with hummingbirds, thus the name. Although you will not find any hummingbirds there today, the area does boast magnificent fields of grass and green trees.
What makes Hummingbird in Stone so interesting is that the gentle creature of the hummingbird and the massive archeological site do not seem to go together. The style and gigantic scale of this ceremonial center makes it difficult to envision small, dainty hummingbirds fluttering about. Even so, the pyramid's platform measures 465 by 273 yards. To give you an idea of the size, this means the pyramid would easily hold up to 30 soccer fields.
Although most Mesoamerican building shapes are unique, this particular pyramid is without doubt the most unusual because of the rectangles and circles. When visiting, you will see various circular bulges facing outward, almost appearing as eyes with eyebrows. Many historians feel the design was intentional, producing the illusion of being watched. Remember, Mexico offers so many pyramids, along with temples and other incredible sites that you do not want to miss.
Last Updated: 10/19/2006 3:14:00 PM