While there are many historical places to see while visiting the island of Barbados, St. Michaelís Cathedral is one that is quite impressive and the perfect spot for people who appreciate history. Many experts believe that in 1751, as President George Washington traveled outside the United States, he came to St. Michaelís Cathedral to worship.
The original structure of the church by that time was already close to a century old, which had been demolished by two hurricanes but rebuilt both times. As you walk inside the church, you will be mesmerized by the beautiful single-hand clock and numerous, detailed inscriptions. As mentioned, St. Michaelís Cathedral was built more than once. The first walls of the church were erected was in 1665 but only stood for six years when a damaging hurricane swept through, destroying it.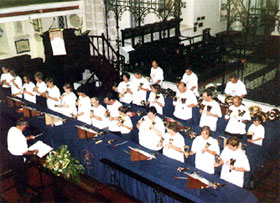 The cathedral today has stood every since and features some very amazing things. There is a wonderful vaulted ceiling and even tombs located in the porch, and more. However, the current building was also hit by a hurricane in 1831, just after being completed only four years earlier. While there are some telltale signs of the past devastation, the cathedral is sound.
Next to St. Michaelís Cathedral is a large cemetery where the previous Prime Minister of the island is buried along with many other interesting people. Sadly, while the cathedral itself is a beautiful place to visit, the homes around it are poorly maintained although very colorful. The cathedral itself is of English influence and made from white stone with a red, corrugated roof.
Today, you can still attend services at St. Michaelís Cathedral. The people are very friendly and the services quiet and reverent. As with most churches, there is a time of singing hymnals to the sound of a massive organ and you can follow along the service with printed booklets that are handed out by the clergymen.
Some of the stain glass windows are broken, the pews are large and hard, and the experience, very Anglican as would have been tradition. If you want to attend a service at St. Michaelís Cathedral, remember that the sermons are usually no longer, than 15 to 20 minutes and the overall experience nice.
Last Updated: 10/19/2006 3:14:00 PM