Barbados is an amazing Caribbean island that has some of the most beautiful landscape in the world. The beaches are sandy white, the water crystal blue, and the temperatures perfect all year long. As you travel about the island, you will find there are many exciting things to do such as attend any number of festivals.
One such event is called the Crop over Festival, which stretches out over five weeks during the summertime. Of all the festivals held in Barbados, this one is by far the most colorful and popular. The original Crop over Festival can be dated back to the 18th century. During this time, Barbados had massive sugarcane plantations, making it the largest producer of sugar in the world. Every year when the sugarcane was harvested, a huge celebration took place as a way of marking the harvest of yet another year – thus the name.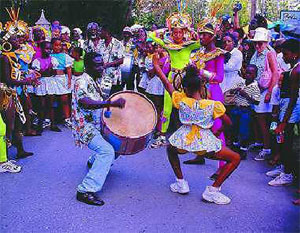 Unfortunately, the production of sugar declined in the 19th century, as did the festival. Then in the 1940s, the Crop over Festival ceased to exist at all. However, in 1974, the Bajans (native of the islands) revised the festival since it had always been such an important part of the culture. Today, the Crop over Festival is highly popular and attended by thousands of people from around the world.
Each year, the Crop over Festival begins with what is called the "Ceremonial Delivery of the Last Canes." Then, the new Kind and Queen of the festival are gloriously crowned, which are the one male and one female cane cutters who had the most productive year. Throughout the festival, there is food and drink, dancing in the streets, and fun for the entire family.
You can also visit Bridgetown Market during the festival where you will find stalls of arts and crafts, food, and drink, while enjoying tuk bands and calypso music. The Cohobblopot is a show at the festival whereby Kadooment bands wear elaborate and colorful costumes. For the smaller children attending the Crop over Festival there is the Kiddies Kadooment, also included magnificent costumes, bands, and parades.
In addition, the Crop over Festival features a number of art and photo exhibits. However, one of the main features of this celebration is called the Calypso. With this, you will find tents scattered about, each sponsored by various businesses on the island. There are prizes, crop competitions, performances by calypsonians, and much more.
At the completion of the week long festival is the Grand Kadooment. This wonderful parade has a number of bands with members dressed up in ornate costumes, all competing for the Designer of the Year award. Keep in mind that Barbados offers a number of other celebrations to include the Holetown Festival in the month of February, the Oistins Fish Festival during the Easter weekend, and the National Independence Festival of Creative Arts in November.
Last Updated: 10/19/2006 3:14:00 PM