As you make your way to the northern part on the island of Barbados, you will find a unique site – there lays 27 massive steps made from coral that lead you down to a cave located at the base of the cliffs. These coral steps were first constructed in 1912, which are reminiscent of the "dance hall days" when the people of the island would come by horse and buggy for a full weekend of fun and sun by the sea.
If you want, you can reach the cave via boat but this will require some strategic maneuvering around stalagmites and stalactites. However, a guide will do the oaring for you, allowing you time to sit back and look at the magnificent orange and green sea anemones as they sit on in the beautiful rock pools. These anemones are what the locals of Barbados call "Animal Flowers", thus the name for this cave – "Animal Flower Cave."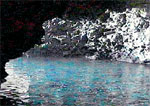 In addition to being stunning with magnificent color and formations, the Animal Flower Cave is also a great place for those interested in the island's history, along with geology and marine life. The floor of the cave is estimated by experts to be some 450,000 to 500,000 years old with the above the floor section being the baby at just `126,000 years of age. One of the unique facts about the cave is that eve though it stands six feet above the tidemark, when originally formed it was just at sea level.
As you take the tour through the cave, you will notice braces along the coral walls where an earlier population hung lanterns to light the way. If you visit the Animal Flower Cave on a day when the waters are quiet, you can even visit a separate room to swim in the natural waters. After the tour, you can enjoy food and drink at an on-site restaurant. This is just one of the many things to see while on the island, showing you why it is such a treasure.
Last Updated: 10/19/2006 3:14:00 PM