Throughout Egypt, you will find numerous mosques and temples, some more magnificent than others. For example, one you should add to your list of things to see is the Ben Ezra Temple, which is at the end of church buildings. Historians tell us that this particular temple was constructed sometime in the 6th century although some experts argue that the architecture would match better with the 9th century. Regardless, the Ben Ezra Temple is a wonderful place to visit.
The style of the temple is Basilica, which is comprised of a wonderful Jewish heritage library, inaugurated in 1997. During exploration in 1896, an incredible collection of documents known as Jineesah were found within the temple. Apparently, several rare manuscripts of Old Testament interpretations were among the findings along with numerous excerpts of linguistic research on Hebrew and explanations of the way in which the Jews handled Arab Muslim authorities. From what the experts can tell, these documents were first written sometime during the Fatimid era.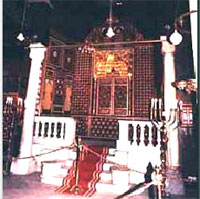 Then as you make your way toward the back part of the temple, a deep well where coffers are located can be found. The fascinating thing about this is that one of the coffers is the exact one that the Prophet Moses was placed in by his mother, found on the river by Pharaoh's daughter. As you can imagine, this is a huge treasure. However, the coffers are just one of the many extraordinary treasures in the Ben Ezra Temple so when going to Egypt, be sure you take time to enjoy this part of history.
Other Egyptian temples that you might consider visiting include the Temple of Luxor, which consists of large buildings made of stone. The walls of this temple are all covered with incredible scenes carved onto the stone using vibrantly colored paint. As you look closely at the scenes, you will find the Pharaoh fighting in battles, as well as performing rituals with various gods and goddesses.
Then, there is the Temple of Karnak, also in Luxor. This particular temple is the world's oldest religious structure although during the history of Egypt it was dwarfed by other temples in the country. You could also visit the Nile Delta Temple, which experts believe was at least as large as Karnak, if not larger. Other possibilities include the Nefertari's Temple located at Abu Simbel. This temple was dedicated to a goddess by the name of Hathor and the Temple of Dendera, a magnificent structure that is a reminder of Egypt's greatness.
Last Updated: 10/19/2006 3:14:00 PM